Rīga
Stradiņš 
University,
Rīga
In 1950, Rīga Medical Institute was established on the basis of the Faculty of Medicine of the State University of Latvia. The initiators were professors Pauls Stradiņš (1896–1958) and Ernests Burtnieks (1950–1958) – the first Director of Rīga Medical Institute, and Healthcare Minister of the Republic of Latvia Ādolfs Krauss. Initially the institute included the faculties of medicine, dentistry and pharmacy, as well as 45 departments. RSU has a student teacher ratio of 1:10. The total number of students is approximately 7,000, while the total number of RSU employees stands at around 1,000, with 370 academic staff members. An increasing number of faculties and departments offer programmes in English, most notably international students studying Medicine and Dentistry. One third of all international students in Latvia study at RSU and currently international students constitute more than 20% of the student body of the university.
Key Facts
The largest and most cosmopolitan of the three Baltic capitals, Rīga's gothic spires and art nouveau style dominate the cityscape. It is quiet and reserved on the outside, but there is some powerful chemistry going on inside its hip bars, modern art centres, and in the kitchens of its cool experimental restaurants. Standing next to a gulf named after itself,
Rīga is a short drive from the jet-setting sea resort of Jūrmala, which comes with a stunning white-sand beach. But if you are craving solitude and a pristine environment, gorgeous sea dunes and blueberry-filled forests, you can begin right outside the city boundaries.
Rīga is a cultural centre with museums and concert halls known for its wooden buildings and medieval Old Town. Set on the Baltic Sea at the mouth of the River Daugava, it offers a wide range of water activities, from canal boat tours to beach swimming.
The cost of living in Rīga is 51% lower than in London.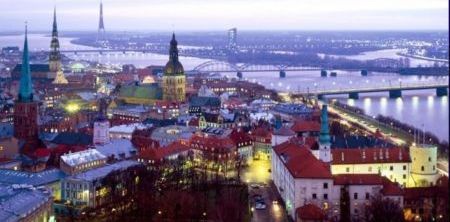 Life at Rīga Stradiņš University in Rīga
Rīga has a population of 717,000 people. Rīga Stradins University is one of the leading and most advanced higher education teaching institutions in the Baltic region. The RSU teaching staff are professionals in their areas of expertise and are opinion leaders in society.
Facts about Stradins University Hospital:
Founded in 1910
Great investments made by professor Pauls Stradins (1896 – 1958)
Leading multi-functional university hospital in Latvia
Nearly 3000 employees

Leading hospital in cardiology, invasive cardiology, transplantology, vascular diseases, neurology and neurosurgery, an internal medicine

857 beds

46,700 inpatients

270,000 outpatients

Average bed occupancy rate – 77%Average length of stay – 5 days

Here you can create the content that will be used within the module.
Course Fees:
Course fees: TBA early 2020
Dentistry (DDS degree) – 5 Years
Medicine (MD Degree) – 6 years
Pharmacy – 5 years
Nursing – 4 years
Physiotherapy – 4 years
Additional Fees:
100 EUR Application Fee to be paid when online application completed
Preparation Course
No entrance examination but applicants must have completed their high school education and have their education certificates. Riga will not accept predicted grades from applicants.
Application Procedure
Complete our EMUCAS Application Pack and return with supporting documents listed on the front page of the application.
Entrance Exam:
There are no entrance exams for Riga Stradins. Acceptance is based upon academic background; please ask for details.
Entrance Requirements
You must have studied several medicine-related subjects in secondary-school for at least two semesters, and have acquired a good passing grade. Each case is judged on its own merits.To apply for undergraduate programmes, you must have completed secondary education (secondary/high-school diploma). Riga Stradins only accept applicants with passing grades. Please note that applicants with failing grades will NOT be processed.